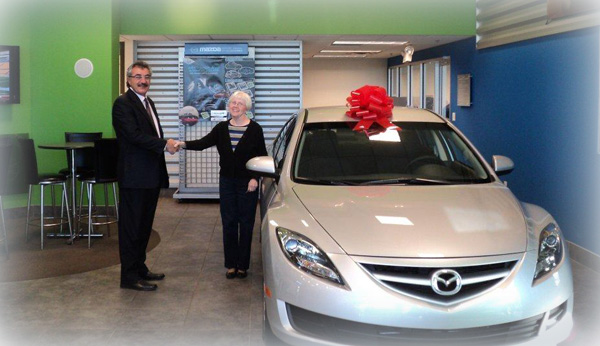 Mazda's Commercial Fleet program offers valuable incentives when purchasing vehicles for your business. Let us help you bring Mazda value, safety, style, and reliability to your employees.
FLEET INCENTIVES:
Fleet Incentives are offered as an Invoice Credit on units that are ordered through Mazda's National Fleet Department. A dealer must apply for the FLEET INCENTIVE when a unit is delivered out of dealer stock and reported sold as fleet. Mazda will pay the dealer or the commercial account upon completion of claim form.
COURTESY DELIVERY PROGRAM:
Mazda North American Operations will pay $300 to the delivering dealer of a Mazda commercial fleet vehicle if the order was generated through the Mazda (MNAO) Fleet Department. Included in this program is full vehicle preparation (PDI) and a full tank of gas, paid on the dealer parts statement where stipulated.
PRICE PROTECTION:
Prices will be protected to the price in effect on the date the first 2012 model year order is received by the Mazda Fleet Department (excluding destination & delivery charges).
DEALER ADVERTISING CHARGES:
All advertising charges will be waived from the invoice price. Vehicles purchased from a dealers' inventory are not eligible for this program benefit.
DOCUMENTATION:
In order to participate in and receive benefits under this 2012 Model Year Commercial Fleet Program, the dealer or fleet account must complete and submit to Mazda, the following Fleet Program Forms, as applicable:
Application for Fleet Account Eligibility (MFP-1):
This form must be submitted to Mazda prior to ordering to qualify the customer as an Eligible Fleet Account.
If approved, Mazda will issue a Mazda Fleet Identification Number (F.I.N.) to the customer. This form is not required for a fleet customer who already has a valid Mazda F.I.N.
Account Order Form (MFP-2):
This form is used when ordering Mazda fleet vehicles. An ordering F.I.N. and an end-user F.I.N. are required. Be sure to include the account name, Mazda F.I.N., delivery information and vehicle specifications.
Fleet Claim Form (MFP-3):
Please make sure to complete all the appropriate boxes and indicate the applicable incentives as well as the payee. This form must be submitted no later than 6 months from vehicle delivery to be eligible for applicable payment.
Please feel free to contact our Fleet Manager at Mazda of Roswell and we will be able to explain in detail about the fleet programs and incentives.